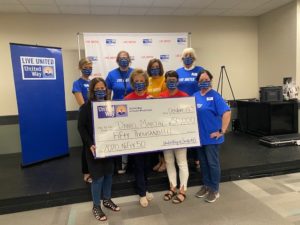 Congratulations to Daniel Martin of Saucier! Daniel is the winner of United Way of South Mississippi's (UWSM) Third Annual Nifty 50 Raffle.
Daniel's winning ticket was pulled during the raffle drawing on Oct. 28 at the Knight Nonprofit Center in Gulfport. Seventy-one other prizes, donated by local businesses, were also given away.
The raffle drawing was broadcast live on the organization's Facebook page. Tickets for the raffle, which were $100, were on sale between Aug. 1 and Oct. 27.
Funds raised from UWSM's raffle, which is in its third year, will be reinvested into the community through Community Impact grants. UWSM, which serves Hancock, Harrison, Pearl River and Stone counties, granted $650,000 in the 2019-2021 grant cycle to 11 area nonprofits who work in the areas of health, education and financial stability. To date, UWSM has also granted nearly $300,000 to area nonprofits to help individuals directly affected by COVID-19.
In addition to the Community Impact grants, UWSM awards short-term emergency and emerging needs grants. The organization also organizes and administers many community programs, including PreK4Ward, a kindergarten prep program; the FamilyWize prescription savings cards; Fill the Bus, an annual school supply drive; Dolly Parton's Imagination Library book program; and free tax preparation services, through VITA.
These grants and programs are made possible by generous donors, said UWSM CEO Kathy Springer.
"Our communities support us in amazing ways, from individual and corporate gifts to buying tickets for the Nifty 50 raffle," she said. "Without that support, we wouldn't be able to offer any of our grants or programs."
Springer said she is already looking forward to the fourth annual raffle, which will kick off in August 2021.
ADDITIONAL PRIZE WINNERS:
• Bellingrath Gardens and Home: Four Garden Passes—Stephen Mangapit
• Big Play Entertainment Center: Silver Birthday Party Package & Players Card—Joe Abston
• Coast Electric Power Company: Yeti Cooler—Renee Toulme
• Don Murray: Three-Night Stay at South Carolina Mountain Cabin: Chris Wilson
• Franko's Clothing Co.: Gift Card—Kevin Miller
• French Kiss Pastries: Eight-Inch Strawberry Bavarian Cake—Jeremy Walley
• Gulf Islands Waterpark: Four One-Day Tickets, Beach Towel, Mask & T-Shirt—Deborah Migues
• Mary Mahoney's Old French House: One Gallon of Seafood Gumbo: Russell Young
• Lazy Magnolia Brewery: Gift Card—Duane Wilson
• Lynn Meadows Discovery Center: Family Membership for One Year—Jennifer Rawls
• Mississippi Power Company: Three Yeti Tumblers, Insulated Canvas Bag & Two-12 Pack of Golf Balls—John Dane III
• Oak Crest Mansion Inn: One-Night Stay—Warren Forstall
• The Rack House Steak & Spirits: Three Gift Card—Ray Scarborough
• Silver Slipper Casino Hotel: One-Night Stay & Two Buffets—Mary Louise LaRosa
• Walter Anderson Museum of Art: Museum Membership & WAMA Swag—James Poss
• Goodwill Industries of South Mississippi: Gift Card—Robin Holland
• Chick-fil-A, Gulfport: Gift Card & Gift Basket—Bridget Weatherly
• Cajun's Fabulous Fried Chicken:10 Buffet & Drink Gift Certificates—Wayne Garner
• Hancock Whitney Bank: Four Stainless Steel Stemless Wine Glasses, Four Silicone Wine Glasses, Sea Turtle Ornament & Mississippi Shaped Cutting Board—Larry Barrios
• Kern Optical Laboratory: OP Sunglasses—Dewey Mason
• Sonic Drive-In: Four Gift Cards—Dorothy Wilson
• Aztecas Restaurant & Cantina: Two Gift Cards—Carolyn Collier
• Piltz, Williams, Larosa & Company: Home Depot & Best Buy Gift Card—Vincent Burke
• Chicken Salad Chick, D'Iberville: Five Free Scoops or Sandwiches; Maritime & Seafood Industry Museum: "The Biloxi Schooners" by Alex North & Walk-On Sail for Two Adults; Wine & Two Wine Glasses—Mary           Louise LaRosa
• Chicken Salad Chick, Gulfport: Six Chick Meals & Tote—Kenny Holloway
• Dressed in Blue Boutique: Gift Card; MeLinda's Fine Gifts & More: Swan Creek Candle Co. Candle; Robin's Nest in the Pass: Satterfield Pottery-Free Form—Lisa Stiglets
• Sam's Club, Gulfport: Gift Card; Walmart, Ocean Springs: Gift Card—Stephen Byrne
• Biloxi Shuckers: Biloxi Shuckers Baseball and Cards, Beach Bag, Cup Holder, Cup & Hand Towel; Pop Brothers: Two Gift Cards—Crystal Morgan
• Palace Casino Resort: Dinner for Two at Palace Buffet—Mary Allen
• Favre4Hope: NFL Hall of Fame Football Signed by Brett Favre, NFL Hall of Fame Card Signed by Brett Favre, Favre4Hope Swag—Mary Louise LaRosa
• Mississippi Aquarium: Two Adult Admission Tickets—Katie Gipson
• Morton's The Steakhouse: Three Course Dinner for Two—Mary Louise LaRosa
• Margaritaville Resort Biloxi: Two Night Stay & Players Card—Warren Arde
• Centennial Plaza: Two Night Stay—Justin Williams
• Regions Bank: Assembled Beach Cruiser Bicycle—Angela Coggins
• Community Bank: Compton & Sons Appliance, LLC and Outdoor Living Gift Card, BBQ Kit, Cutting Board & Oven Mitt—Edward McCormack
• Mary Mahoney's Old French House: One Gallon of Seafood Gumbo—Ashley Edwards
• Raising Cane's Chicken Fingers: Five Box Combo Gift Cards—Mary Louise LaRosa
• Hard Rock Hotel and Casino, Biloxi: Fender Guitar Signed by Melissa Etheridge—Susan Hunt
• Island View Casino: One Night Stay & Dinner for Two at Carter Green—Mary Louise LaRosa
• Hancock Whitney Bank: Hancock Whitney "Splash Bash" Poster by Roger Waldrop—Mary Louise LaRosa
• Felix's Restaurant & Oyster Bar: Gift Card—Leisa Kirkpatrick
• The Oaks Golf Club: Four-18 Hole Rounds of Golf & One Hat—Matt Boney
• Waffle House: Gift Basket & Gift Card—Jennifer McAdams
• McDonald's Descher Organization: 52 Happy Meal Coupons & McDonald's Towel—Jessica Powell
• Chick-fil-A, D'Iberville: Gift Basket & Gift Card—Jason Bougeios
• Gulfport Coca-Cola Bottling Company: Coca-Cola for a Year—Wendy Palmer
• Walmart, Picayune: Gift Card—Sabrina Martin
• Humane Society of South Mississippi: Gift Certificate for One Annual Exam & Gift Basket—Louise Wilson
• Italian Grill & Pizzeria: Gift Card; Paul's Pastry Shop: Gift Card—Chuck Wall
• Millbrook Golf & Country Club: Four-18 Hole Rounds of Golf—Ann Duke
• Hilton Garden Inn Gulfport Airport: One-Night Stay—Mary McPherson
• Half Shell Oyster House: Gift Card—Donna Gentile
• Salute Italian & Seafood Restaurant: Gift Card—Bernie Ostervold
• Courtyard by Marriott Gulfport Beachfront: Two-Night Stay—Mary Louise LaRosa
• RPM Pizza (Domino's): 12-One Large, One Topping Pizza—Bridget Beck
• Beau Rivage Resort & Casino: One Night Stay—Isaac Fred Dale
• Brick & Spoon Biloxi: Gift Card—Velma Johnson
• Martin Miazza Gifts: Four Stemless Wine Glasses; Hancock Whitney Bank: Bottle of Wine—Matthew Langlinais
• Vera Bradley Outlet: Large Tote & Throw Blanket—Christy Pickering
• Moe's Southwest Grill: Gift Card; Seaside Fitness Group Training Studio: One Month Unlimited Membership—Glenda Anderson
• Sparklight: Computer Tablet-Fire HD 10 with Alexa—Shawn Stephens
• Biloxi Resort Beach Rentals: Two Night Stay—Mary Louise LaRosa
• Trustmark Bank: Two Hats, Two Tumbler Mugs & Umbrella—Donna Felsher
• Nella Home Interiors & Gifts: Tote Bag by Jane Marie—Bobby Mahoney
• Shane Newsom at Salon Alexander's: One Gift Card for Hair Services—Rimmer Covington
• Rouses Supermarket: Gift Card—Linda Hornsby
• Biloxi Freezing Processing, Inc.: 20lbs. of Peeled and Deveined Shrimp—Gwendolyn Barnes
• Sadie Jane's Famous Wreaths & Gifts: Christmas Wreath—Jeff Bankston
• Chick-fil-A, Edgewater Mall: Two Large Nugget Trays—Mary Louise LaRosa
• Mercedes Benz of South Mississippi: Duffle Bag—Bridget Castle
• Harrah's Gulf Coast Hotel & Casino: One-Night Stay & Dinner for Two at Magnolia House—Michael Monsour *Early Bird Prize*