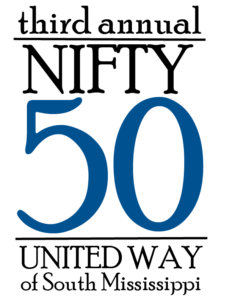 THE THIRD ANNUAL NIFTY 50 RAFFLE WILL TAKE PLACE ON WEDNESDAY, OCTOBER 28 AT 6:30 P.M.
What IS NIFTY 50?
The Nifty 50 raffle offers ticketholders a chance to win a grand prize of $50,000 or any door prizes.
HOW MUCH ARE THE TICKETS, AND WHEN CAN I BUY THEM?
Tickers are $100 each. Sales begin at 8 a.m. on August 1 and continue through 11:59 p.m. on October 23 if purchasing a ticket with a check, or 3:00 p.m. on October 27 if purchasing ticket with cash, credit cards or online.
HOW MANY TICKETS WILL BE SOLD?
There are only 1,500 Nifty 50 tickets.
HOW CAN I BUY TICKETS?
TEXT
Text NIFTY50 to 91999 to purchase your ticket using a debit or credit card or PayPal.
ONLINE
Click here to purchase your tickets online using a debit or credit card or PayPal.
IN PERSON
Visit our office at the Knight Nonprofit Center, 11975 Seaway Road, Suite B-170, Gulfport, MS 39503.
WHAT ABOUT EARLY BIRD TICKETS?
Early bird ticketholders, or patrons who purchase tickets prior to September 25, will be eligible to win prizes at a special raffle on September 30. The drawing will take place at Alexander, Van Loon, Sloan, Levens & Favre, PLLC in Gulfport, MS.
WHEN IS THE GRAND PRIZE DRAWING?
The remaining prizes, including the $50,000 grand prize, will be raffled during the 6:30 p.m. WLOX-TV newscast on October 28 at Patio 44 Coastal Seafood & Steaks in Gulfport. Ticketholders and the general public are invited to attend the event and enjoy drink specials and a special menu.
WHO DOES NIFTY 50 BENEFIT?
All proceeds benefit United Way of South Mississippi, which rallies resources to improve the education, financial stability and health of all people within its service area of Hancock, Harrison, Pearl River and Stone counties.
WHAT ELSE DO I NEED TO KNOW?
Read the full Terms and Conditions here.