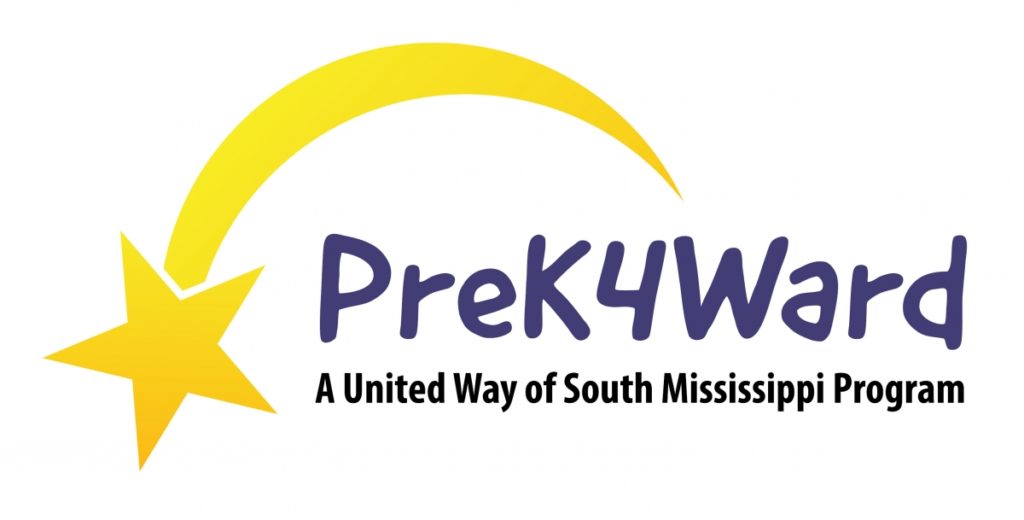 The PreK4Ward application is currently closed.

PreK4Ward is a grant-funded initiative designed to promote kindergarten readiness and is offered as a collaboration between United Way of South Mississippi and local school districts. The number of classrooms and the locations offered will be determined in approximately June of 2021. Once those determinations are made, UWSM will begin assigning students to their classrooms and notifying parents via email of acceptance to the program. Each class will consist of no more than 20 students. Due to the high level of interest in this program and the limited number of spaces, we strongly encourage all families to have a backup plan for their child's preschool year.
Upon notification of the acceptance of your child, you will be provided with the date of the PreK4Ward orientation for your specific school. This will be held several days prior to the start of classes, and parents will have the opportunity to see the child's school, meet the teacher and complete the Pre-K registration process.
The following information is required for registration:
A Mississippi Certificate of Immunization Compliance Form (obtained at the Health Department, Seabee Base, Keesler Air Force Base or private physician)
Certified copy of Birth Certificate (not a hospital certificate)
Student Social Security number
Verification of residency

Must provide 2 forms of proper documentation. One form of documentation must be a utility bill or a rent receipt. The second form can be one of the following: filed Homestead Exemption application form, mortgage documents or property deed, apartment or home lease, automobile registration or housing assignment from Seabee Base

Guardianship

Legal guardians must provide a copy of the most recent court order, signed by a judge, appointing them as legal guardian.

Payment of $250.00 registration fee.
* UWSM must receive all of the above listed items in order for your child to begin school. No exceptions can be made as these are state-mandated requirements. Failure to provide the required documentation prior to first day of school could result in loss of seat in the class.
An key component of United Way's PreK4Ward program is parent engagement. Each family enrolled will be required to complete at least four of the in-person parent education courses offered by UWSM. Classes will be offered throughout the school year at varying times of day allowing for as many opportunities as possible to attend. UWSM is proud to offer the Barksdale Reading Institute's "Parent Academy Series" to satisfy this requirement.
Please Note…
Students

must

be 4 years old on or before September 1, 2021 to be considered.
2021-2022 school year applications will be accepted until May 28, 2021.
To be eligible, students must live within the school district in which the child will attend PreK4Ward.
PreK4Ward is a tuition-free program; however, a $250 registration fee is required at orientation.
Attendance at four Parent Education courses provided by United Way of South Mississippi is a requirement of the program.
Frequently Asked Questions
We know that you as a parent will have a lot of questions! After all, this is about your child's education. Please take a moment to read through these FAQ's about PreK4Ward.
What is the curriculum for PreK4Ward?
PreK4Ward utilizes the "Mississippi Department of Education Early Learning Standards for Classrooms serving 4 year olds" to ensure that students leave academically and socially prepared to enter kindergarten successfully.
How many teachers are in a classroom?
Each classroom will have a Lead Teacher and a Teaching Assistant. All of our teachers have significant experience in Prek education.
When is the registration fee due?
The registration fee will be due at final registration, immediately prior to the start of school.
What type of book bag will my child need, and will I need to purchase school supplies?
For PreK classes in the HCSD clear or mesh book bag will be required. The $250.00 registration fee covers all classroom supplies; you will not be required to provide school supplies for your child.
What are the student arrival and departure times for PreK4Ward?
This answer will vary slightly by location; however, most locations begin at 8:00 a.m. with drop off from 7:45-8:00 a.m. Dismissal is from 1:45-2:00 p.m. with pick up no later than 2:10. Times are structured for Pre-K to arrive after K-6 and be dismissed prior to K-6. Drop off and pick up is required. Pre-K students are not permitted to ride district school buses.
I work until 5 pm; will After School Care be available for my child?
There is no After School Care provided as part of PreK4Ward or by United Way. Depending on the school that your child attends they may be able to utilize the school's aftercare program (Gulfport) or participate in a program offered by a 3rd party in the school (Harrison County). It will be your responsibility to contact the school or vendor directly to arrange for this. Please note that the After-School Care times may not coordinate with the Pre-K dismissal time as they will have an earlier dismissal time.
Does my child have to be toilet trained?
Children must be completely toilet trained prior to attending PreK4Ward. Repeated accidents could potentially result in dismissal from the program.
Can you guarantee my child will be placed in a class at the school where he or she will attend kindergarten?
Unfortunately, we cannot. While that is always our goal, not all elementary schools in the district will have a PreK4Ward classroom. If your designated school doesn't have a Pre-K class or it is full, your child will be placed in the nearest available class.
What if my child doesn't get a seat in a classroom?
UWSM will maintain a waiting list of the remaining applicants once all of the seats are filled. If a seat in a class in your area becomes available, you will be notified as soon as possible. Some turnover is expected as plans and situations do change, but please have a backup plan for your child. No new students will be added after 9/3/2021.
Does PreK4Ward follow the school district calendar?
The school district calendar is our guide. PreK4Ward will end several weeks prior to the end of the regular school year. Pre-K may have other additional holidays throughout the year. You will be provided a list of the Pre-K calendar at the beginning of the school year.
How would I find out more information about PreK4Ward?
If you have specific questions not addressed in the application and FAQ section, please email the UWSM office by clicking HERE.
Please do not call the schools or district office, as they will not be able to answer questions specific to PreK4Ward. Calls to UWSM should be limited due to the large interest in the program and the limited size of our staff. Emails will be answered in a timely manner in the order received.