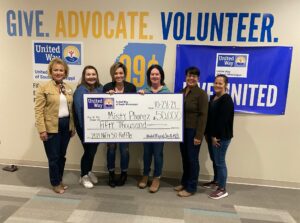 Congratulations to Misty Pharez of Perkinston! Misty is the winner of United Way of South Mississippi's (UWSM) Fourth Annual Nifty 50 Raffle. 
Misty's winning ticket was pulled during the raffle drawing on Oct. 28 at Patio 44 in Gulfport. Seventy other prizes, donated by local businesses, were also given away. 
The raffle drawing was broadcast live on the organization's Facebook page and the grand prize was broadcast live on the WLOX 6:30 broadcast. Tickets for the raffle, which were $100, were on sale between July 29 and Oct. 26.
Funds raised from UWSM's raffle, which is in its fourth year, will be reinvested into the community through Community Impact grants. UWSM, which serves Hancock, Harrison, Pearl River and Stone counties, granted $430,000 in the 2021-2023 grant cycle to 12 area nonprofits who work in the areas of health, education and financial stability. To date, UWSM has also granted nearly $405,000 to area nonprofits to help individuals directly affected by COVID-19.
In addition to the Community Impact grants, UWSM awards short-term emergency and emerging needs grants. The organization also organizes and administers many community programs, including PreK4Ward, a kindergarten prep program; the SingleCare prescription savings cards; Fill the Bus, an annual school supply drive; Dolly Parton's Imagination Library book program; and free tax preparation services, through VITA.
These grants and programs are made possible by generous donors, said UWSM CEO Kathy Springer.
"Our communities support us in amazing ways, from individual and corporate gifts to buying tickets for the Nifty 50 raffle," she said. "Without that support, we wouldn't be able to offer any of our grants or programs."
Springer said she is already looking forward to the fifth annual raffle, which will kick off in August 2022.
Additional Prize Winners
Walter Anderson Museum of Art: Household Membership and WAMA Swag-Elisa Radich
Bellingrath Gardens & Homes: Family 4-Pack Tickets, Gardens Only-Sharon Cameron
Vera Bradley Factory Outlet: Travel Bag & Lighten Essential-Tara Boutoille
Don Murray: 3-Night Stay in South Carolina Cabin-Elaine D'Aunoy
Lazy Magnolia Brewing Company: Gift Card-Christopher Fargo
Big Play Entertainment Center: Silver Party Package-Pamela Hymel
AGJ Systems & Networks: JBL Earbuds and Amazon Echo Dot-Roianne Gutierrez
Lynn Meadows Discovery Center: Family 4-Pack Museum Admission, Frito-Lay: Cutting Board and Socks, MeLinda's Fine Gifts & More: Sweet Pickle Chips, PitStop Carwash: Good Bag-Elizabeth Ladner
Mississippi Power: Two Umbrellas, Cooler, Two Totes, Tumbler & Golf Balls-Marilyn Sefton
Hilton Garden Inn, Gulfport: One-Night Stay in King Suite-John Payton Hood
Salon Alexander's: Hair Cut by Alex, Jada-Bug's Gifts Vinyl & Blanks: Gift Card, PitStop Carwash: Goodie Bag-Ron Barnes
Zaxby's: One Large Chicken Platter & One Small Chicken Platter-Jennifer Walker
Sparklight: Amazon Fire Tablet & Jeffery Simmons Signed Football-Billie Melah
Favre4Hope: Brett Favre #4 Jersey-Brian Thomas
Regions Bank: Green Regions Bike and Helmet-Lori Gloyd Rolison
The Rack House Steak & Spirits: Gift Cards-Gwyn Diaz
Gulf Islands Waterpark: Two One-Day Tickets-Sabrina Hefty
Love, ivy Boutique: Gift Card-Angela Crossen
Seaside Fitness: One Month Unlimited Membership-Al & Carol Shiyou
Piltz, Williams, LaRosa & Co.-Two Target Gift Cards and One Bloomin' Brands Gift Card-Ron Barnes
Kern Optical Laboratory: INVU Sunglasses-Amanda Simmons
Chick-fil-A: Four Catering Trays, Sunglasses, Shirt, Hat, Tumbler & Stuffed Cow-Jerry Schmuck
Beau Rivage Resort & Casino: One-Night Stay & Food and Beverage Credit-Charlie Oakes
Mary Mahoney's Old French House: Gallon of Seafood Gumbo-Andrew Yarger
Salute Italian and Seafood Restaurant: Gift Certificates-Dave Gordon
Courtyard by Marriott, Gulfport Beach: Two-Night Stay-Christin LeBoeuf
French Kiss Pastries: 8-Inch Strawberry Bavarian Cake, PitStop Carwash: Goodie Bag-Linda Skinner
Aztecas Restaurant & Cantina, Gulfport: Gift Cards-Michelle Earnest
Victoria Lynn Boutique: Earrings, French Drug Co.: Southern Mud Pottery Cross, PitStop Carwash: Goodie Bag-Barry Fitts
Morton's The Steakhouse: Three-Course Dinner for Two-Lynn Vic-Vincent
Island View Casino Resort: One-Night Stay and Gift Card to Carter Green Steakhouse-Bridget Turan
Hard Rock Hotel and Casino: Guitar and Framed Poster Autographed by David Allen Coe-Raven Ladner
Maritime and Seafood Industry Museum: 2.5 Hour Walk Aboard the Biloxi Schooner & Admission to Museum-Garrin Sauer
RPM Pizza (Domino's): 12 Free Large One Topping Pizzas-John Dane III
Rouses Markets: Mini Blue Smoker-Catherine Myers
Todd Boswell Salon: Hair Cut with Sarah, Kern Optical Laboratory: OP Sunglasses-Michael O'Neill
F.E.B. Distributing Co., Inc.: Igloo Soft Backpack Cooler, Two Hates, Two T-shirts & Nine Sunglasses-Chris Jackson
Coastal Mardi Gras Museum: One-Time Admission for Four, Pooh's Liquor: Bottle of Wine, PitStop Carwash: Goodie Bag-Angela Wingfield
Dressed in Blue Boutique: Gift Card, MeLinda's Fine Gifts & More: Candle, PitStop Carwash: Goodie Bag-Kingsley Klosson
Simply Jane Clothing Co.: Earrings and Necklace, MeLinda's Fine Gifts & More: Candle, PitStop Carwash: Goodie Bag-Carlos Martinez
Chicken Salad Chick, Gulfport: Six Gift Cards for the Chick Special, Two Lunch Boxes and Two Tervis Tumblers-Charles West
Hancock Whitney Bank: Four Stainless Steel Wine Glasses, Bottle of Wine, MS State Shaped Cutting Board & Insulated Wine Bag-Stephen Byrne
Texas Roadhouse, Gulfport: Gift Basket-William Yates
Coast Electric Power Association: Yeti Cooler-John Dane III
Golden Nugget Casino Hotel: Two-Night Stay and Property Resort Credit-Patrick Spayde
Humane Society of South Mississippi: Gift Certificate for One Annual Exam for Dog/Cat, Dog Toys, Treats, Leash, etc.-Jodi Trosclair
Mississippi Aquarium: Two Adult Tickets-Angie Carter
Biloxi Shuckers: Autographed Tristen Lutz Baseball, Beach Tote, T-shirt, Hat, Spatula, Stein Mug & Magnet, Pooh's Liquor: Bottle of Wine-Kevin Chism
Palace Casino Resort: Four Rounds of Golf at the Preserve Club-Crystal Morgan
Cajun's Fabulous Fried Chicken: Five All-You-Can-Eat-And-Drink for Two Certificates-Susan Waguespack
Gulf Coast Carnival Association: Invitation to 2022 Royal Reception-Katelyn Watts
Goodwill Industries of South MS: Gift Card-Michael Barnes
Acosta Veterinary Hospital: Basket with Dog Blanket, Bowl, Treat Jar, Picture Frame, Water Bottle, etc.-Sabrina Martin
Gulfport Coca-Cola Bottling Company: 24 Cases of 12oz Cans Fridge Pack-Troy Petterson
Martin Miazza Gifts: Caskata Crab Plate, Sadie Jane's Famous Wreaths and Gifts: Gift Card-Charlotte Arledge
Waffle House, Inc.: Gift Basket-Crystal Morgan
Half Shell Oyster House: Two Gift Certificates-Ronald Taglieri
The Oaks Golf Club: Two-18 Hole Rounds of Golf with Cart: Louise Leckich
Robin's Nest in the Pass: Badash 8′ Violet Vase, Gulf Coast Symphony: Cookbook, PitStop Carwash: Goodie Bag-Nicholas Breaux-Fujita
Robin's Nest in the Pass: Sunburst Mother of Pearl Tray-John Hudson
Kellie's Poor Boys: Gift Card, Paul's Pastry Shop: Gift Card, Fatty's Seafood Restaurant: Gift Card, PitStop Carwash: Goodie Bag-James Redmond
Millbrooke Golf & Country Club: Four Rounds of Golf: David Quigley
Walmart, Picayune: Gift Card-Shelia Alexander
Dad's Camper Outlet: Gulfstream Conquest Rental-Leiann Small
Patio 44, Gulfport: Gift Card-Matthew Haver
Nella Home Interiors & Gifts: Platter by Split-P, PitStop Carwash: Goodie Bag-Clay Wagner
Sadie Jane's Famous Wreaths & Gifts: Christmas Wreath-Kevin Lynch
Trustmark: Portfolio, Golf Club Cover, Tote, Blanket, Hat & Tumbler-Scott Kautzman
The Almanett Hotel & Bistro: Bistro Bucks-Dorothy Wilson